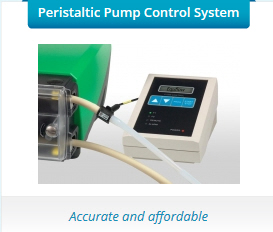 Peristaltic Pump Control System

This innovative Peristaltic Pump Control System is suitable for adjusting and controlling metering pumps in batch or flow processes.
The system consists of an Equflow S601 pump controller and a very sensitive turbine Flow Meter.
It is able to dose liquids with high accuracy while controlling and monitoring process safety.
The high resolution flow meter measures the flow and transmits the data to the pump controller.
An easy-to-use calibration setting on the pump controller assures outstanding measuring results. Comprehensive testing has shown that an accuracy of up to 0.5% can be attained.
Since the flow meter is also available in interchangeable versions, the pump control system is very much suitable for single-use applications.
Characteristics:
Control channel for 1 pump with PID pump adjustment
2-line display showing flow velocity and totalizing data
IP Ethernet connectivity available for network integration
High repeatability of the flowmeters: 0.5% of reading
Data log software optional
Easy-to-handle interface: critical parameters protected by password
Power supply 24 VDC